Frankie Miller`s FULL HOUSE
FRANKIE MILLER'S FULLHOUSE'
 BIO:
With Ray, Steve & Tex all having played with Frankie and Andy having played on the Double Take album and then we found Gregor who when he sings sounds just like Frankie we now have a great band that will amaze you all. The band have played a couple of shows in 2018 which were very well recieved with having to play many encores as well. They have are just finishing off a new album due for release in 2019 along with a lot more shows as Fullhouse return and go full steam ahead and are ready to blow you away.
Frankie Miller, born on 2nd November 1949, raised in Brigton in the east end of Glasgow. Growing up with a passion for the Blues, rock n' roll and Soul music of the 60's.  Artists, who not only performed, but who were Songwriters, Artists such as 
Ray
 Charles, Bobby Bland, Otis Redding and Little Richard. Frankie was intrigued from a very early age in the way that these 'Artist/Writers' structured and crafted their' classic songs. If you are unfamiliar with Frankie Miller, simply check him out on YouTube. The first thing that will astound you is his incredible, Soulful Voice.  
Rod Stewart a great Friend of Frankie's, says of him, "He's the only white Singer that ever brought a tear to my eye'……………………..……
FRANKIE THE WRITER: As well as Rod, Elton John, The Eagles, Joe Cocker, Roy Orbison, Cher, Willie Nelson, Paul Carrack, Etta James, Johnny Cash, Bob Seger, Travelling Wilburys, Joe Walsh, Johnny Depp,  The Everly Brothers and Ray Charles are just some of the other incredible – over one hundred and fifty in all – Internationally renowned Artistes who have covered and indeed, had Hits with Frankie's great songs.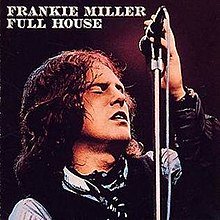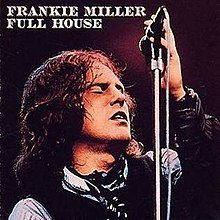 FULLHOUSE 2019:
Now comes the exciting prospect of Frankie's 'Musical Legacy' being reinvigorated.  Some of this country's finest musicians – all of whom have recorded, Toured and are long standing Friends of Frankie – are determined to help to perpetuate the Music of Frankie Miller, help it survive the test of time…… That Band are –FULLHOUSE Led by Ray Minhinnett on guitar, a founding member of the original Fullhouse with Frankie himself, and who has acted as Frankies' MD for many years on both Live and Studio projects, including the latest Duets Album – 'Double Take' released last year on Universal Records.  Ray   toured extensively with the great man, playing on all his now classic Songs including their' biggest selling Single 'Be Good To Yourself'- penned By FREE Bass Player Andy Fraser –  'Fool In Love', 'Ain't Got No Money' Guilty of the Crime,  I'd Lie To You For Your Love, Jealousy, The Rock etc.
FULLHOUSE
 are currently putting finishing touches to a brand new album due out later this year, which includes two previously unreleased Frankie Miller Songs, new Backing track added by 
FULLHOUSE
, and Frankie Miller himself contributing the vocal honours.
The first time since 1977,  a "Real Re-union"  of 'FRANKIE MILLER'S 
FULLHOUSE
'